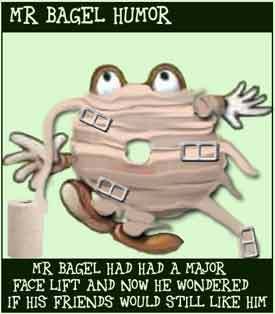 Mr Bagel gets a New Look
For those thousands that are my regulars, [chuckle] you may remember the odd few times Mr Bagel has had a facelift. After recently updating the 'mast' of my page, I choose Mr Bagel to announce it, it was quite a departure from my previous style, and I awaited nervously to see peoples reactions.

Any feedback or comments are appreciated, even if they are to do with other aspects of my blog.


Bagelblogger Always fresh!




: * New Blog Mast * Face lift * Mr Bagel * Mr Bagel Humor * Israel * Jewish * BagelBlogger * Bagel Blogger